Paul and I have always wanted to drive the length of 55O in Colorado. Our daughter Rachel invited us up to Palisade, CO. for her 30th birthday so we figured, why not? We started in the late afternoon and only made it as far as some BLM land in NM. Nice thing is that there are plenty of places to pull off and sleep when you get tired, and it is usually pretty scenery.
We planned a hike on the Ice Lake trail outside of Silverton. It had just reopened because of a forest fire the previous year. Most of the fire happened down low on the trail so only a small portion of the trail was affected. The trail was a challenging climb but very doable when slow and steady.
When we reached the top it was much cooler and we were treated to some spectacular views and aqua blue lakes.
Going down was much quicker and we even ran some segments.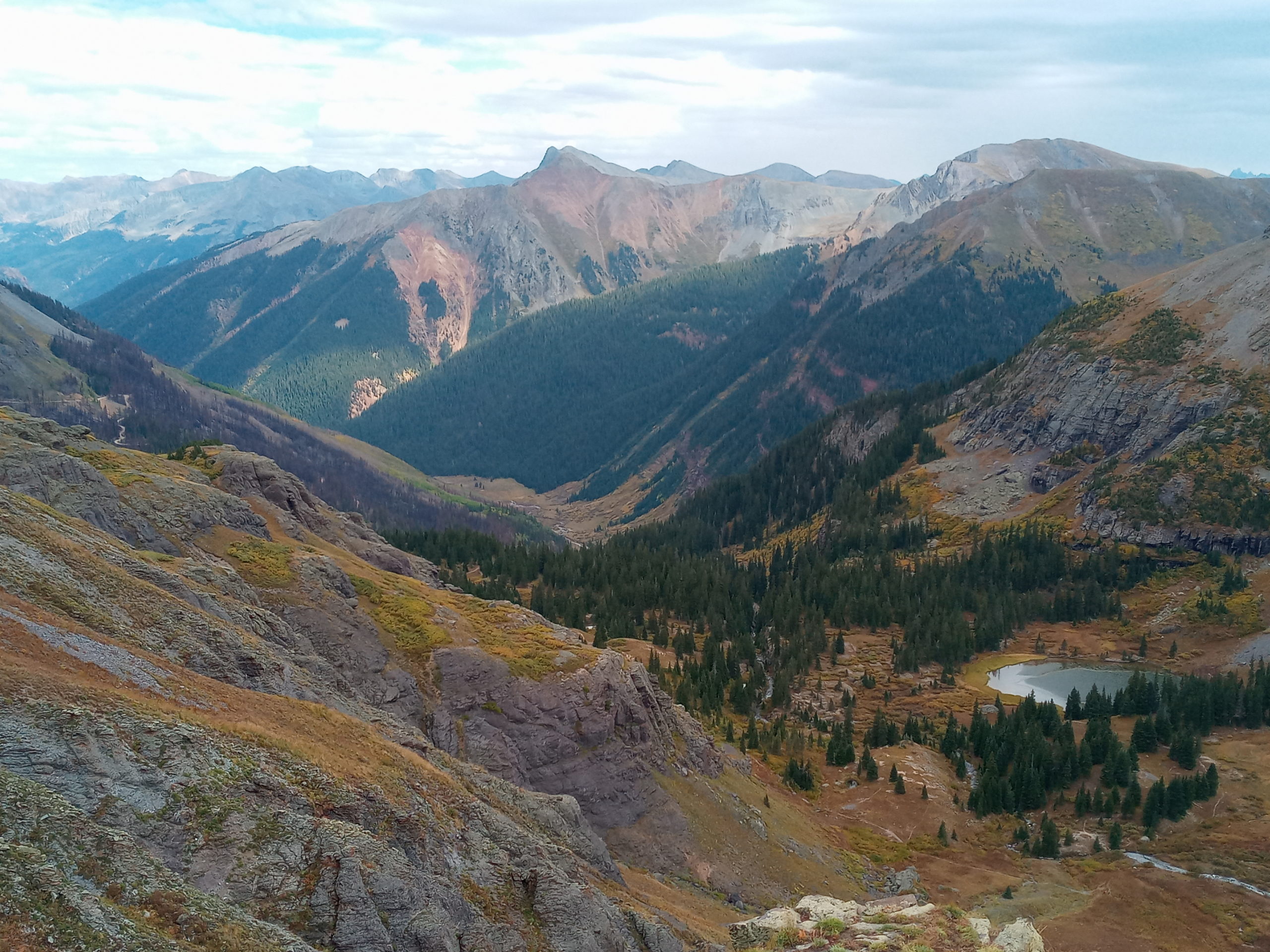 After our hike we headed north through Ouray and then looked for a place to stop for the night. We thought maybe Ridgeway SP but it looked uninviting as the water was so low. Paul spotted a sign and we drove into Billy Creek State Wildlife area. They have designated spots for camping but we were thrilled to find a beautiful, free place in quiet, open land. The wind kicked up for a bit but then settled down in time for sleep.
The next morning we finished the drive to Palisade. Maps took us through the Escalante State wildlife area which was lovely and marshy looking. We met up with the kids at the Palisade Farmers Market on Sunday around 10 am. Very impressive for such low population but Grand Junction is only 10 minutes away. The wine festival was underway at 11 am. so we ate breakfast and headed to Liat and Brandon's place to park. We all rode bicycles to the Wine Fest and sipped, danced, and bought some stuff till 4pm.
Paul and I checked into the James. M Robb S.P and showered, rested etc.. then we met up with the kids for dinner in Palisade. Everyone a bit sleepy, we called it an early night.
Rachel wanted to go on a hike for her birthday so we headed up to the Grand Mesa. Liat knew a sweet out and back that showed the beautiful Fall colors of the aspen trees, next to running water and the valley below.
We drove out to Land's End afterwards and then Ozzy did some impressive driving down a windy gravel road for 18 miles.
Paul cooked a yummy dinner for everyone. We had wine, cake, songs, and a full moon to boot.
The next day we traveled back the same way we came although turning at Durango.. We did one stop for a crazy hike at Mill Creek and I don't recommend the outback part. Stay on the road! Although I did see a porcupine face to face, which was cool.
After that whole experience, we needed a soak so Paul drove all the way to Pagosa Springs and we sat in the free Nathan's Hippy Dip hot springs. The warm/hot water felt so good and you can cold plunge in the river. Driving on with the night creeping in, we pulled over on 285 and the Continental Divide to eat dinner. Then Paul sailed us all the way home by the light of the moon.