After our amazing time at the grand canyon we headed to Flagstaff to visit with friends Shari and Paul. They made a big move from the east coast to a property in Flagstaff near the National forest. Their home is warm and cozy so we skipped sleeping in the van for a few days. I was a bit jealous of all the amazing running opportunities they have right outside their door.
Shari and Paul also love to hike so they took us to Sedona to get a closer look at the red rocks. There are a multitude of trails in the area and I believe you can't go wrong in choosing. Everywhere we looked was full of gorgeousness. We enjoyed tasty woodfired pizza at Pisa Lisa. Just warm enough to sit outside.
You can't drive over the Hoover Dam without getting a closer look. It is a spectacular construction that took 5 years to build and many lives lost (96). You are allowed to drive over it after your vehicle goes through a security checkpoint.
Vegas! Sin City and the home of Most Reverend Bishop Pepe, cousin Joe. We didn't give Joe enough notice so we just took in Monday night mass and said a quick hello. Nice dinner at Hedary's Mediterranean and then to walk around old town, Fremont Street. Cool art happenings, weird outdoor/indoor mall space where people fly over your head zip lining. Light show on the dome ceiling, music, drinking etc…all a bit overwhelming.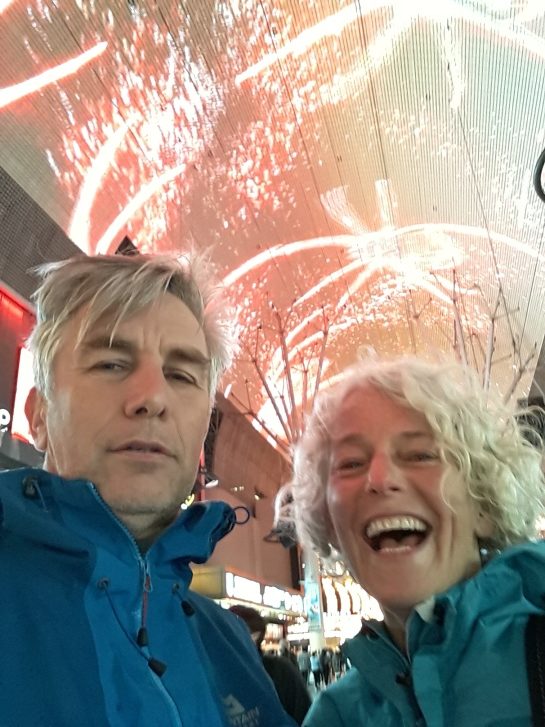 We parked the van on 9th street and it was very quiet overnight. In the morning we had a delicious breakfast, almost too large, at Publicus. Very nice ambiance. Seems like a popular meet up space where people gather, drink coffee and enjoy fantastic food.