Arriving  in Chinatown we took a cab with all our luggage to Red Hook. I found an air bnb on line that was close enough to the Brooklyn Cruise Terminal. We spent the afternoon walking around the place and checking out the waterfront.
There was an art exhibit about the time capsules of the Ant Farm at Pioneer works we really enjoyed. Wonderfully large exhibition space and it also included loft offices filled with a variety of artists including a radio station.
We both were floored by a grocery store called Fairway that has high end foods, olive oil, teas, and regular stuff. We drank some wine we bought back at our place and headed to hear some local music at Sunny's. (a very authentic red hook bar)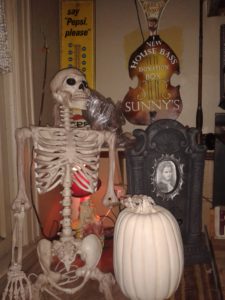 Next day Paul enjoyed running across both the Brooklyn ad Manhattan bridges. We found it very easy to rent Citi bikes and used them to do errands and sight see including the Brooklyn Bridge, Dumbo, and Prospect Park.
Had a delicious dinner at a Middle Eastern BYOB, Zaytoons. Freshly made pitas, delicious hummus and cozy candlelit setting. Return to airbnb and take a salt bath in the wonderful claw foot tub.
Departure Day!!! Wake up and take citi bikes to get masks for the ship. Get back to airbnb and Amy our gracious host lets us keep luggage there till departure. Buy some wine then enjoy lunch at Hope and Anchor.
Grab our bags and drag them ever so slowly to the terminal where we receive white glove treatment on arrival. Oh yea, now were talking.
Who knew Red Hook was such a great place?