Paul and I took this photo in Mueller State Park, Colorado on our first stop to the West. It took 2 and 1/2 days of driving from Philadelphia to get there(sleeping at Flying J) but it was worth it! We did an initial trail run when we got there but we both could tell the altitude was getting to us. We stopped a lot and walked up hills. It was quite a change from Philadelphia. The next day I woke with a headache and slight bloody nose. Not the best sleep. Transitioning to higher altitude can take a bit.
The next day I rode my bike to Cripple Creek and found that a bit easier to breathe. The route I took was up, up, and more up. On the way back it started to rain and then lightening. I saw a few other cyclists who encouraged me to get down as fast as possible. I was cold and shivering when I returned to camp. Next time I will bring a long a jacket. I can see why cyclists love Colorado, just amazing.
I am now going to briefly summarize the rest of our trip:
Drive to Salida on the Arkansas River. I loved this artsy town full of bike shops, galleries and people canoing on the river. Stopped at Black Canyon of the Gunnison. Stay a night in Moab.
Drive through Capital Reef National Park, visit Anasazi State Park. Set up camp at Calf Creek where we stayed a few days for some memorable hikes. Ride bike on Hwy 12 ( yee haa!).
Drive the loneliest Road Hwy-50 where I left my purse in a bar in Eureka. Visit Bend Oregon and find it a desirable place to live. Head to the coast and stay at Whalen Island County Park (expensive, no showers, but peaceful).
Cycle up the shore to Cape Mears. Drive to Tillamook and hit a cool farmer's market.
Trail run at Ecola Bay State Park.
Camp at Willapa Bay (Bush Pioneer County Park, perfect quiet stop and warm showers, beach not so good). Stop at artsy coffee place in South Bend, catch ferry at Southworth/Vashon to Seattle.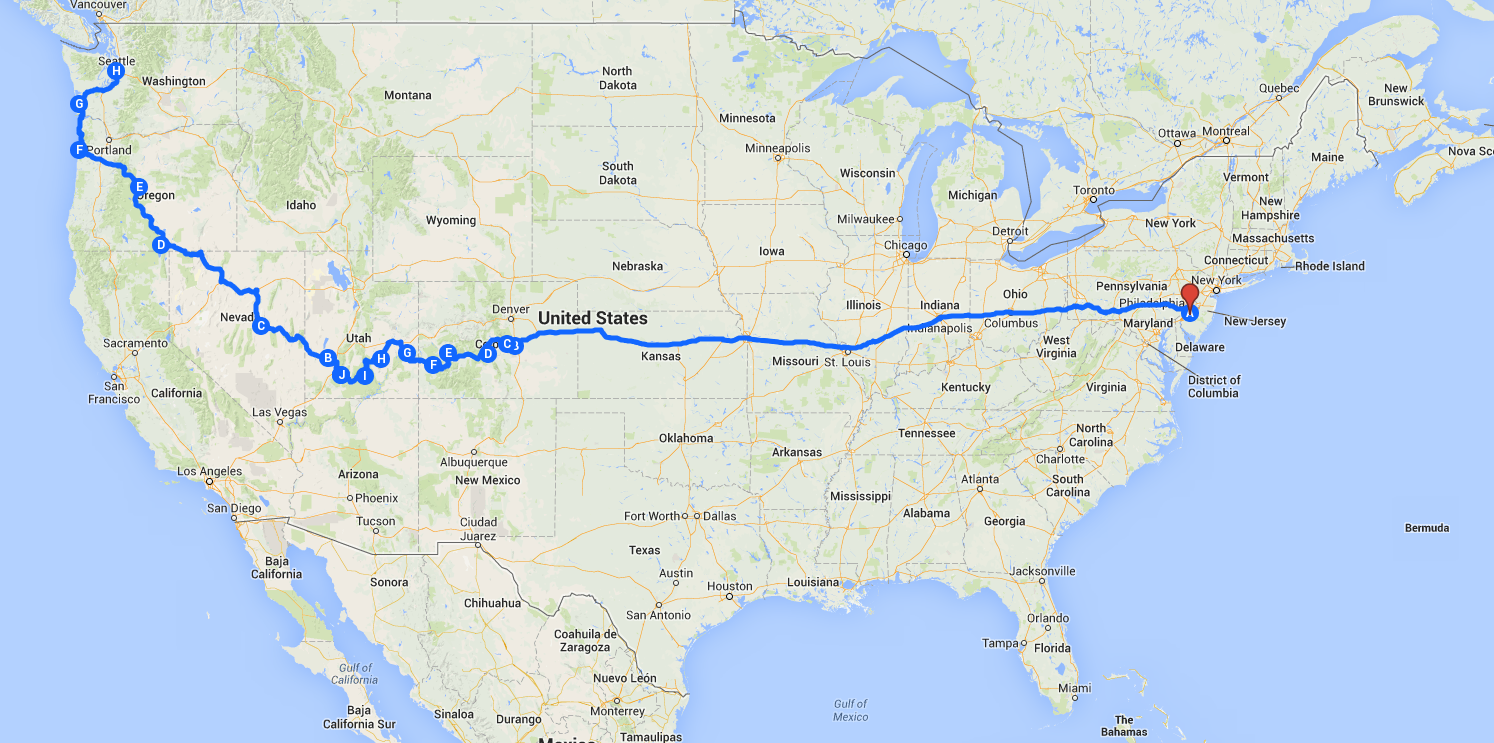 Spend some time in Seattle preparing for the hiking trip. Parked the van on my sister Bridget's dead end street. We felt completely comfortable retiring for the evening in the van. Paul also did some software work at this time. Hiked 10 glorious days on the Wonderland trail with Bridget and Brenda (this is a whole other story).
Leave Seattle (my purse was returned to me by mail, Yeah for nice people!), stop in Winthrop and day hike with Dennis and Brenda in Northern Cascades.
Visit Zan Deery and her dog Itsy in Spokane.
Stop in Coeur d'Alene which we found interesting and full of art galleries. Definitely a tourist/vacation spot. Arrived in Missoula and explored a bit. Farmer's market, local micro breweries, art museum, river, Roots festival. Took Josh to lunch. Too bad it was a rainy weekend.
Head to Billings then Hwy 212. Devil's Tower, Black Hills of South Dakota, sleep at Roubaix Lake Forest Service Park.(quiet, dark, stars). Run the next day on the George S. Mickleson Trail. Visit Mt. Rushmore, Drive across S.Dakota.
Wake early and drive more. Stop at Four Daughter's Winery in Minnesota (buy wine and cider). Head to Wisconsin on scenic roads along Mississippi River. Stay at Anne and Pat's in Madison. Paul gets some work done and I play around with Milo and Inde my nephews. Birthday dinner with Mom, Dad, and Matt at Fox and Hounds. Dad makes me a delicious strawberry shortcake. Drive up to Michigan upper peninsula. Sleep at busy Indian Lake state park. Camp fire, soup, rain at night.
Next day run along the North Country Trail along Lake Superior. Rinse off in cold lake water. Rain, rain, and more rain. Stay at Chutes Park in Ontario (waterfall). Next stop Toronto. Glen Rouge Camp ground on edge of city. Check out town, distillery district. (Cluny- pricey but tasty) Run in the park in am. Head to Niagara Falls.
Take more scenic roads back to home.